This September the rehearsals are starting of La dona del 600, a life-affirming comedy written and directed by Pere Riera, which will open this autumn at the Teatro Goya.
Bitò and Minoria Absoluta collaborate for the first time to coproduce this show about family life.  The play is performed by a cast replete with big names from the Catalan stage: Mercè Sampietro, Jordi Banacolocha, Àngels Gonyalons, Victòria Pagès and Pep Planas. La dona del 600 tells the story of a family through the prism of their SEAT 600, a car which was much more than a mere means of transport – it is the symbol of an epoch and an icon venerated by various generations.
What memories c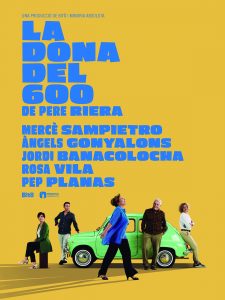 ame with a 600? Family excursions, interminable journeys to holiday destinations, a unique taste of freedom… every family has its own history but the Seat 600 is part of the collective imagination of many.  Today, Pere Riera takes to the wheel of the iconic car to transport us into the life of a family, showing us their relationships, their secrets and their shared joys.  For many people, the 600 was another member of the family.
Tomás is a widower in his seventies when his doctor orders him to stay off coffee, milk, salt and fat.  He lives alone and passes the time as best he can.  One day, his daughter Montse brings him a surprise gift: a model of a Seat 600. Montse, who works for Médecins Sans Frontières and spends a lot of time away from home, thinks her present will keep her father entertained; especially when he starts on a full-scale replica of the car they had at home for so many years. The "confit", as it was known in the family after Carme, Tomás's wife, named the small but beautiful car the day he brought it home many years ago, became another member of the family.
La dona del 600 is on from 25 October at the Teatro Goya.
Tickets on sale now.