From 5 February, an oil painting by Claude Monet, which is part of a private collection, is on showexclusively at the IDEAL.
The work, entitled Étude de Nymphhéas (1910-1915), is part of the impressionist artist's famous series of water lilies.
Part of a private collection, this is the second oil painting by Monet known to be in Catalonia – the other is in Montserrat -andmay be linked to the famous murals in the Musée de l'Orangerie.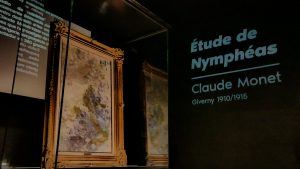 It is an original oil painting by Monet which was auctioned off by one of his children in the 1990s. Until then it had never been seen by the general public.
After visiting the IDEAL immersive exhibition, the owner of the work, who wishes to remain anonymous, decided to offer the piece to the centre to go on show, free of charge, to the general public.
Jordi Sellas, director of the centre, expressed his satisfaction saying
"It's a luxury and we are very happy to have this painting, it's a gift as well as an added bonus for our centre.
The presentation of the work to the press also served to announce that the Monet immersive exhibition has already been seen by more than 80,000 people and will definitively close its doors on 27 April 2020. Until then, the entry ticket to the centre will include the opportunity to view the original painting by the world-famous impressionist artist.